ODiSI offers medical diagnostic services providers (such as radiology departments and pathology labs) powerful, flexible and cost-effective integration solutions built on the solid Open-Source foundations of NextGen's Mirth Connect integration hub. Key benefits include:
Faster reporting of results leading to improved continuity of care
Increased efficiency through reduced manual data input
Interoperable data exchange as standard
These are just some of the proven benefits delivered by ODiSI (see our detailed case study). Improved continuity of care leads to better patient outcomes and experience, while increased efficiency provides cost savings and optimises resource utilisation. Interoperable data exchange helps to ensure data accessibility making information available to users to improve clinical decision making and reduce clinical risk.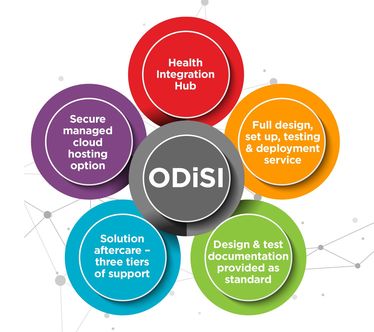 Every ODiSI solution consists of:
Installed production and test instance of integration hub software linking the customer's chosen set of IT systems to allow information to flow seamlessly between them
Full design, installation, configuration and testing service
Full design and test documentation
Option of customer on-premise hosting or secure managed cloud hosting
Optional solution aftercare service
To understand how ODiSI can be part of your plan to achieve integration success download a free copy of our comprehensive diagnostic imaging systems integration guide here.